---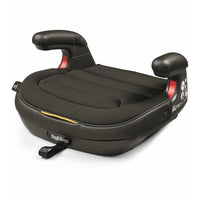 The car seat for older children.
Lightweight and easy to install, it consists only of the base, therefore it is suitable for older children who have a physical structure already suitable for the use of the car seat belts. 
Recommended for children 40 - 120 lbs, with a maximum height of 63 inches.
Integrated Rigid LATCH
Unique to the Viaggio Shuttle is its Integrated Rigid LATCH system. This allows for perfect stability of the booster seat, whether a passenger is present or not. If the Shuttle is placed in a position with no LATCH anchors, the Rigid LATCH can be tucked back into the Shuttle, allowing for a great fit.
Blind Lock Attaching System
Prevents the Viaggio Shuttle 120 from being accidentally released by another passenger.
Dual Layer Comfort
Ideal for long journeys, the Viaggio Shuttle is designed to be extremely comfortable thanks to its double layer of expanded material.
Cup Holder
A clip-on cup holder is included with the Viaggio Shuttle 120.
Carry Handle

A carry handle is located on the rear of Viaggio Shuttle 120 for easy transportation.
Performance Fabric
Innovative microfiber fabric on seat is breathable and absorbs moisture — keeping the child cool and comfortable.