---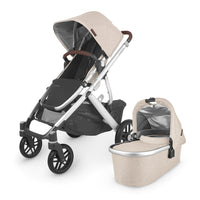 Convertible single-to-double stroller system uniquely designed to grow with your family.
One for All®
The VISTA's intuitive design allows for multiple configurations, making transporting a second and third child a breeze — all while strolling like a single.
Highlights
Includes Bassinet and Full-Size Toddler Seat
Accommodates Up to Three Children with Additional Expansion Options
Extendable, UPF 50+ Canopies and Easy-to-Peek Window for Added Air Flow
Extra-Large, Easy-Access Basket that Holds Up to 30 lbs
Luxurious Fabrics and Full-Grain Leather Details

The Ultimate Grow Up
Our VISTA stroller is intuitively designed to "grow" with your family! It starts as a single stroller but can easily transform to accommodate up to three children with added accessories and adapters — becoming the ultimate in portability and convenience!
RumbleSeat V2
VISTA PiggyBack


Smooth + Comfortable Ride
Enhanced all-wheel suspension and independent shocks ensure your child has a smooth and comfortable ride whether traveling down winding paths or over bumpy pavement.


REACH Certified
Our premium, full-grain leather accents are all REACH certified. Being REACH certified means our leather tanning process is cognizant of the effects of chemicals and our tanneries regularly pass rigorous chemical compliancy testing. Our adjustable handlebar extends for parents of varying heights and features premium, full-grain leather for extra grip while pushing baby.

Extra-Large, Easy-Access Basket
The extra-large, easy-access basket can hold up to 30 lbs so you can easily store all of your essentials while strolling. The large opening means it's easier to reach your diaper bag, toys, and whatever else you pick up along the way.


One-Step Fold, Stands When Folded
The VISTA one-step fold is easy and intuitive. The stroller stands on its own when folded and can be folded with or without the Toddler Seat attached.

Included Bassinet
The depth and ventilation of the Bassinet provides a perfect overnight sleep solution when paired with the Bassinet Stand accessory. Simply move baby from stroller to stand with the easy one-hand release button!
Bassinet Accessory
Bassinet Mattress Cover
Bassinet Stand Accessory


Extendable, Pop-Out UPF 50+ Sunshade
The extendable, pop-out UPF 50+ sunshade on our Bassinet shields your child from harmful UV rays while the back of the Bassinet canopy unzips for additional airflow.


Safe Resting Space
The Bassinet includes a perforated mattress pad and vented base which provides added breathability, creating a truly comfortable and safe resting space for your baby. Plus, the water-repellent inner liner and boot cover are easy to remove and clean.

Included Toddler Seat
The full-size, reversible Toddler Seat allows your child to ride forward- or parent-facing and includes an adjustable, extended canopy with a mesh peek-a-boo window for additional air flow. It also offers an easy, one-handed 180° recline option, an adjustable, multi-position leg rest, a premium leather bumper bar, and a five-point, no-rethread harness.


Extendable, UPF 50+ Canopy
The zip-out canopy on our Toddler Seat extends to shield your child from harmful UV rays, allowing your family to enjoy even the sunniest of days together.


One-Handed Recline
The multi-position recline allows your child to lie comfortably for naps or sit upright to take in the sights, offering the flexibility your busy toddler needs.
Specifications
Bassinet Suitable from Birth Up to 20 lbs or Until Infant Can Push Up On Hands and Knees, Whichever Comes First
Toddler Seat Suitable from 3 Months to 50 lbs
Dimensions
Unfolded
36″L x 25.7″W x 39.5″H
Folded With Seat Attached
17.3″L x 25.7″W x 33.3″H
Folded Without Seat Attached
13″L x 25.7″W x 32″H
Weight (Includes Canopy, Wheels and Basket)
Frame + Seat 27 lbs
Frame 20 lbs
Seat 7 lbs
Bassinet 8.8 lbs
Features
Bassinet
Perforated Bassinet Mattress Pad, Vented Base and Canopy for Added Breathability
Extendable, Pop Out UPF 50+ Sunshade
One-Handed Release from Stroller
Depth and Ventilation Provide an Overnight Sleep Solution
Zip Out, Water-Repellent Inner Liner and Boot Cover Are Easy to Remove and Clean
Toddler Seat / Frame
Ability to Transport Up to Three Children with RumbleSeat and PiggyBack Accessories
Full-Size Reversible Toddler Seat
Five-Point, No-Rethread Harness
Extendable Canopy with UPF 50+ Protection, Zip Out Fabric and Mesh Panels
Vented Peekaboo Window
One-Handed, Multi-Position Recline
Adjustable Handlebar
Extra-Large, Easy-Access Basket with 30 lbs Weight Limit
All-Wheel Suspension
Front Wheel Locks with Visual Indicators
MESA Infant Car Seat Attaches Directly to Stroller Without Adapters
100% Full-Grain Leather Accents
One-Step Fold, Stands when Folded
What's Included
Stroller
Bassinet
Toddler Seat Bug Shield
Toddler Seat Rain Shield
Bassinet Bug Shield
Bassinet Storage Bag