---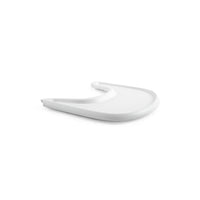 The Tripp Trapp® chair is designed to fit right into your table, bringing your baby into the heart of your family. However, for certain occasions a tray that fits on the chair with Tripp Trapp® Baby Set can be a valuable accessory. Turn your Tripp Trapp® into a stand-alone high chair with the Stokke® Tray. Perfect for quick feedings or crowded tables, the Scandinavian designed Stokke® Tray's clean lines compliment the Tripp Trapp® for a unique, stunning seat. Suitable for 6 months to 3 years.
Provides added versatility to your Tripp Trapp® and home.
BPA-free plastic is easy to clean for quick spills.
Designed to be used only with the Stokke® Baby Set.
Compatible with the Tripp Trapp® Baby Set from V2 onwards.
*The Stokke® Tray is not designed to hold the child in the chair.
PRODUCT SIZE (CM/IN) 46 x 32 x 4 / 18.1 x 12.6 x 1.6
WEIGHT (KG/LBS) 0.595 / 1.3
SUITABLE FOR AGE from 6 (months)
COMPATIBILITY
Tripp Trapp® Chair Chair
Tripp Trapp® High Chair
Tripp Trapp® Chair
Tripp Trapp® Baby Set
EZPZ™ by STOKKE™ Placemat for STOKKE® Tray