---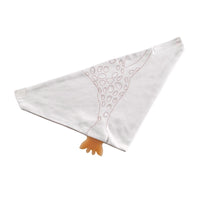 6+ Months
With a Chewable Part, Made from 100% Natural Rubber.
Made from 100% organic textile, it limits allergic risks.
Fixed around Baby's neck, the bandana enables to protect Baby and his clothes from saliva.
Smart, it has a rubber part to chew, so Baby can be relief when teething.
It is light and easy to tie. The triangular shape enables Baby to keep his mobility wit-hout being disturbed by a bib.
With Velcro ties, it easily adapts to Baby's neck.
With an embroidered side and a pattern side.