---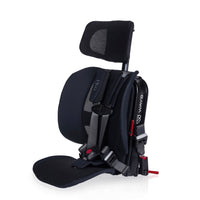 Meet Pico, the car seat that's actually portable!
✓ Compact Fold     ✓ Just 8lbs     ✓ Car & Plane Approved
Forward-Facing Car Seat 22-50 lbs and 30-45 inches
Recommended for ages 2+
Designed for Safety
The Pico Car Seat meets all Federal Motor Vehicle Safety and Federal Aviation Administration standards for cars and planes.
Strong and Light
Weighing in at just 8 pounds, the Pico makes traveling with kiddos a breeze.
Never Skip the Seat
The safest car seat is the one you'll actually take with you. Light and portable, the Pico is perfect for travel and everyday use.
Fold and Go
Tote your Pico to and fro, with the Pico Travel Bag (sold separately). Use as a backpack or a luggage add-on for easy takeoffs and landings.