---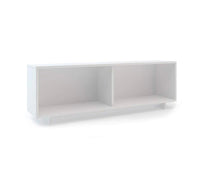 This storage unit is a useful addition to the Perch Full size Loft Bed. It can be attached to the top side of the bed with brackets, or placed at the bottom when mounted on the legs (both brackets and legs provided).
FUN FACTS
Meets all US, Canadian, Australian and European Safety Standards 
Easy to Assemble by One Person
Can be Used Attached to Perch Full-Size Loft Bed or Can be Used on the Floor. (Comes with Both Brackets and Legs.)
THINGS ECO
GREENGUARD Gold Certified
Sustainably Produced in Europe
Made of Eco-MDF
Finishes are Non-Toxic, Water-Based and Free of VOC Health Hazards 
Made under European Environmental Standards 
Packaging Made of Recycled Cardboard
Responsible Recycling Through Licensed Collecting Facilities 
WORTH KNOWING
Comes with Hardware to Attach the Unit to the Frame of a Perch Full-Size Loft Bed and a Base to be Used When Placing the Console on the Floor

All Dimensions for USA, CANADA, and KOREA Only
Dimensions in Australia and Europe accommodate
the Perch Beds in the Respective Regions.