---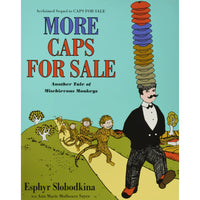 ABOUT MORE CAPS FOR SALE
The charming, never-before-published sequel to Caps for Sale! Those mischievous monkeys are at it again, bringing laughs to a new generation of readers.
Since Esphyr Slobodkina's Caps for Sale was first published in 1940, millions of children have savored the original tale of the peddler, his caps, and a band of very funny monkeys. Now More Caps for Sale continues the story, picking up right where Caps for Sale left off. This board book edition features thick pages and is just the right size for small hands.
More Caps for Sale is the first posthumous book from Esphyr Slobodkina and is based on story ideas shared with Ann Marie Mulhearn Sayer throughout their years as friends and business associates prior to Esphyr's death in 2002. The warmth and humor of the simple text and bright illustrations creates the perfect opportunity for early readers to experience a classic folktale tradition.