---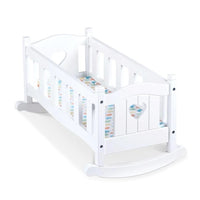 3+ Years
Rock to sleep favorite dolls and stuffed animals in this realistic and classically styled wooden cradle that suits any décor! Made to fit dolls up to 20 inches tall, the durable white rocking cradle with a wipe-clean surface stands approximately 10 inches tall. Clear instructions make the cradle easy to assemble with just a screwdriver (not included). Mine to Love® dolls and accessories encourage empathy and help kids express themselves as they explore grown-up roles and responsibilities. A child's confidence and self-esteem blossom and grow with each nurturing moment of imaginative play!
White Wooden Rocking Play Cradle for Dolls and Stuffed Animals Up to 20in Tall
Features Smooth Rocking Motion and Wipe-Clean Surface; Includes Cozy Removable Mattress
Coordinates Perfectly with Mine to Love® Play Bed, Play Bunk Bed, Play Armoire, Play Stroller and Play High Chair
Encourages Empathy and Helps Kids Express Themselves
Assembled When Stacked 10.2"H x 11.8"W x 20.7"L
WARNING ADULT ASSEMBLY REQUIRED. Contains Small Parts before Assembly.
Discover Countless Ways To Play
ROCK-A-BYE
Make Up Lullabies to Sing to Baby While Rocking Them to Sleep in the Cradle, and Some Gentle "Time to Wake Up" Songs, Too!

SICK DAY 
Baby has a Tummy Ache and the Doctor has Prescribed Lots of Rest! Take Care of a "Sick" Doll or Stuffed Animal by Swaddling It in a Blanket, Making Sure It Gets Plenty of Water and Cuddles, Taking Its Temperature with a Pretend Thermometer, etc.

IMAGINATION STATION
Imagine Other Things the Cradle Can be Besides a Place to Sleep: A Raft Going Through River Rapids; a Roller Coaster Car at the Amusement Park; a Safari Truck Rumbling Across the African Plains; a Boat Crossing the Ocean! Make Up Stories About the Adventures Baby Has.

CLEAN UP 
When Playtime is Done for the Day, Use the Crib to Hold Toys, Games, Dolls, and Stuffed Animals! Turn Clean-Up Time into a Game by Timing How Quickly You Can Get Everything Off the Floor. Try to Beat the Record Next Time!