---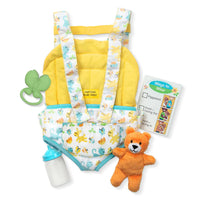 3+ Years
When little caregivers need to be hands-free, there's nothing better than this realistic baby carrier for kids' favorite dolls and stuffed animals! The adjustable carrier holds dolls up to 18 inches and can be worn in the front or back, with "baby" facing forward or backward. The play set includes a toy stuffed bear, baby bottle, butterfly rattle, and a reusable double-sided activity card, all of which tuck conveniently into two pockets in the carrier. Sturdy construction and machine washable. With Mine to Love toys, kids three and older can explore grown-up roles and responsibilities while having endless fun caring for their babies. (Dolls/stuffed animals--other than the small toy bear--not included with this set.)
Adjustable Cloth Baby Carrier for Stuffed Animals and Dolls Up to 18in; Sturdy High-Quality Construction with Reinforced Border Bindings
Includes Butterfly Rattle, Baby Bottle, Stuffed Toy Bear, Reusable Double-Sided Activity Card
Machine Washable Carrier Can Be Worn in the Front or Back, with "Baby" Facing Forward or Backward
Mine to Love Accessories Encourage Empathy and Help Kids Express Themselves as They Explore Grown-Up Roles and Responsibilities
Dolls/Stuffed Animals Not Included
Discover Countless Ways To Play
DIFFERENT WAYS TO CARRY
Newborns Find It Comforting to Ride In Their Carriers on a Grown-Up's Chest, Facing In; As They "Grow," Try Switching the Carrier so Baby Faces Out to See the World, or Rides Piggy-Back on Hikes through the Woods!

DAILY PLANNER
Baby's Days are Always Busy! Create a Schedule that Includes Meals, Naps, Playtime, Baths, Story Time, Walks, Travel and Other Activities.

TELL A TALE
Tell a Story About Where Baby is Going in the Carrier Today. Perhaps You're Running Errands or Going to the Park. What is the Weather Like, Who Does Baby Meet, and What Sights Does Baby See Along the Way?