---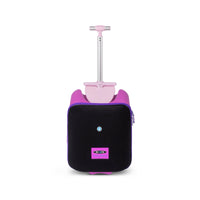 Ages 18+ Months
The Luggage Eazy - aka Game Changer!
Transform airport travel with this alternative to cumbersome strollers. Ideal for children from age 18 months up to about age 5 who will enjoy riding while sitting, holding on to the handle bar at the base of the Luggage Eazy.
Ideal for families with traveling tots, this fun and practical new travel accessory will have you all showing up to the gate in happy traveler mode. Easy to use, lightweight yet stable, and super compact. 
The ride-on Luggage Eazy comes equipped with a folding front set of wheels to stabilize your child while riding. When you're ready to take off, simply fold the wheels back into the suitcase, lower the telescope handle, pop it into the overhead bin and you're good to go! 
The Luggage Eazy features excellent storage capacity, an easy-access large front pocket, and a plush velcro front textile for added play at the gate. 
Whether you're traveling solo or with your child, the Luggage Eazy is the Swiss-Designed solution to make better journeys. 
*All images are for reference only and are not to scale.
Dimensions Folded 23" x 15.5" x 9.5"
Height from Deck 42.9" fully extended
Scooter Weight 8 lbs