---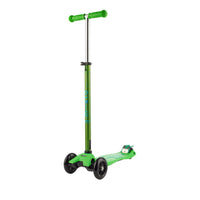 Ages 5 - 12 Years
The Maxi is loved by children and trusted by parents. Micro's kickboard-style design, with its Lean-to-Steer turning, offers challenges and adventure for every level of rider. The ride for younger children is smooth and stable as they develop their skills. Older kids who have mastered the weight-shifting skills needed for Lean-to-Steer get the thrill of skateboard-style curving and carving, with the added control of the Maxi's T-bar. 
Innovative Swiss design and thoughtful attention to detail makes riding a Maxi more comfortable, and more stylish! Its special shock absorbing deck and chassis provide a more comfortable ride and the silicone-injected foot deck provides improved grip. The wide range of colors, with color-matched anodized handlebars is the perfect way for your child to express their personality! 
Micro's quality Swiss design and materials guarantee that the Maxi will provide fun and exercise for years. No need to purchase a new scooter year after year: this one is likely to last your child through elementary school. And, all Micro Scooter parts are replaceable, so you can refresh parts any time. Once your child has outgrown the Maxi, you'll be able to pass it on to a sibling, cousin, or friend. All Micro Scooters are backed by our 2-year warranty.
*All images are for reference only and are not to scale
Safety certified by the CPSC, the Maxi Deluxe is recommended for children up to 110 lbs.

SAFETY - We recommend that children wear helmets and knee pads when riding for the best protection. The Maxi's non-marking wheels make it possible for children to start learning to scoot in the safety of your home.
Dimensions Folded
t-bar removes from deck
Height from Deck 
24
"
- 34
"
Scooter Weight 
6 lbs