---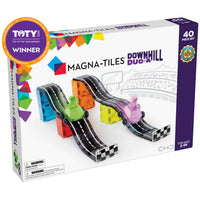 3+ Years
Ready, set, go!  With the new MAGNA-TILES® Downhill Duo 40-Piece set, kids are in the driver's seat!  Little ones can turn their MAGNA-TILES® build into an exciting downhill adventure, in just a few clicks.   Looking for a new way to inspire their imagination, build their motor skills, and support their STEAM learning?  Buckle up and imagine the possibilities with new Ramps, Roads, Dashers and Figures! 
Includes age-appropriate pieces for frustration-free play and adventure, including the first-ever, fully-magnetic Figures, Dashers, Ramps and Roads.
Versatile pieces create multiple building options. Young racers can build a large mega ramp, set up a side-by-side downhill duo race or create rolling hills to cruise along.
Introduce the new magnetic Figures to your MAGNA-TILES® world and experience a new level of imaginative play. Figures include magnets in the arms, feet and head to interact with your existing MAGNA-TILES® pieces.
Kid-powered Dashers are specially designed to ride along the Ramps and Roads for frustration-free play – their wheels ride on the outside of tiles and a small brake on the bottom regulates speed.
Inspired by the bold colors of the Metropolis 110-Piece set and fan-favorite roads from Builder 32-Piece set.
Part of the new MAGNA-TILES® In Motion
What's Inside?
4 Ramps
2 Vehicles (Green and Purple)
2 Figures (Green and Purple)
6 Roads Squares
24 Squares
2 Finish Lines Rectangles