---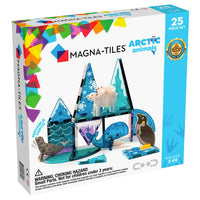 3+ Years
Grab your little explorers and chill out. The Arctic Animals set is a pop-polar choice for kids to play, build, and pretend with five arctic animal friends and their frozen habitat. You're sure to have a whale-y good time as you slip, slide, and splash your way through icy mountains and glaciers.
Five happy arctic animals, including: Penguin, Seal, Baby Polar Bear, Polar Bear and Whale
Tundra-themed set with ice and footprint details
Encourages open-ended/unstructured play, storytelling, and creativity
What's Inside?
5 Arctic Figurines: Penguin, Seal, Baby Polar Bear, Polar Bear and Whale
8 Small Squares
4 Isosceles Triangles
4 Equilateral Triangles
4 Quarter Circles