---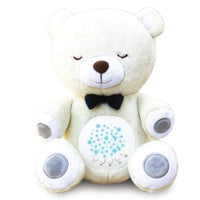 A sound machine, night light, white noise maker, and projector all in one!  Ideal for newborns, infants, and toddlers, it plays 10 sounds and songs perfect for calming and comforting with colorful lights to lull babies to sleep and help them feel safe in the dark.
Soothing Sounds / Music A mix of 10 popular lullabies, white noise, ocean waves, and rainforest sounds help kids fall fast asleep; audio can be played on loop or repeat and songs won't be cut off 
Star Projector The nursery nightlight projects a starry night sky onto any wall or ceiling with soft colors and slow-moving projection; provide a comforting, dreamlike atmosphere for sleeping
Cry Sensor LumiPets light and sound machines also work help by gently lulling babies back to sleep with calming sounds so parents can rest; sensors activate after 5 seconds of crying
Volume & Brightness Control Adjust the settings to create an ideal sleep environment for your infant.
Soft & Safe A baby soother sound machine in the form of a cute and soft stuffed animal, it can be placed in a crib or strapped to the side, is USB rechargeable and has 15 / 30-minute auto-off timers