---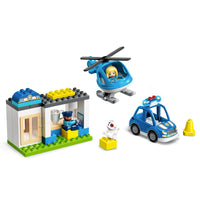 2+ Years
⚠️WARNING! This toy produces flashes that may trigger epilepsy in sensitized individuals.
This product contains a button or coin battery.
LEGO® DUPLO® Rescue Police Station & Helicopter (10959) is a toddler-friendly police playset featuring characters and vehicles to inspire kids aged 2+.
Developmental play at the police station
The police station is full of fun activities. There's a Push&Go police car with flashing lights and a siren (batteries included), a cute dog to train, and a watchtower where police officers can look out for the police helicopter with its spinnable rotor blades. As children build and play, they developfine motor skills, emotional awareness and more. And because the action is always in their hands, it's a worry-free way for youngsters to learn about police work.
Playful learning for toddlers
Parents can share precious developmental milestones as LEGO DUPLO toys put open-ended fun, self-expression and joyful exploration into young children's hands.
Toddler-friendly police set – LEGO® DUPLO® Rescue Police Station & Helicopter (10959) features characters and vehicles to inspire budding police officers' imaginations
Cool police vehicles – Includes 2 police officers and a police dog, a Push&Go police car with lights and siren (batteries included) and a police helicopter with spinnable rotor blades
Authentic details – The set includes open-and-close doors, an observation tower, a coffee cup that doubles up as a megaphone and computer and surveillance camera decorated elements
Build skills with the police – As kids play out imaginative police stories, they develop their fine motor skills and strengthen their social and emotional awareness
Perfect for preschool police officers – This versatile set is packed with play-and-learn fun for kids aged 2 and up and lets parents share precious developmental milestones with their child
Versatile playset – The set's main building measures over 14.5 in. (37 cm) high, 18.5 in. (48 cm) wide and 16.5 in. (43 cm) deep
Story Starters included – A fun picture story based on the playset provides a great way to introduce children to creative construction and imaginative play
Playful learning – All LEGO® DUPLO® sets are expertly designed with engaging narratives, captivating colors, diverse characters and fascinating details to give your little learner a BIG start in life
Consistent quality – LEGO® DUPLO® components meet stringent industry standards to ensure they are easy for little fingers to pick up, place and pull apart, and it's been that way since 1969
Safety assured – LEGO® DUPLO® bricks and pieces are dropped, heated, crushed, twisted and analyzed to make sure that they meet demanding global safety standards
Push&Go Police Car
Flash the lights and sound the siren as you race along.
Police Helicopter
Spin the rotor blades as you take to the air.
Story Starter
A picture story based on the playset inspires creative play.