---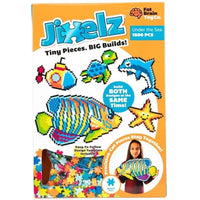 6+ Years
Classic puzzle fun becomes an adventure in pixelated creativity!

Each set comes with 1500 vibrant, precision-cut micro jigsaw pieces. Follow the templates to transform the tiny pixel puzzle pieces into either four mini designs or one GIANT design.

Create a dolphin, a starfish, a sea turtle, and a submarine, or a giant tropical fish with the Under the Sea set.

Build a rocket ship, a little blue bird, an airplane, and a hot air balloon, or a giant macaw with the Up in the Air set.

Or - Why not get creative and invent your own designs? - OR! - Why not collect them all, combine them, and build something GINORMOUS?

All Jixelz hold together strong - no ironing needed! - and they fit together easily without any frustration.

Let your big ideas shine bright with the Jixelz 1500 pc Sets!
Jixelz 1500 pc Set
Sets of 1500 colorful jigsaw-shaped building pieces for making colorful designs
Encourages fine motor skills, spatial reasoning, creativity, planning
A fascinatingly fun and simple adventure in creativity
2 sets to choose from - Up in the Air or Under the Sea
Sets each include 1500 Jixel pieces
Sets include instructions for building 4 mini designs or one giant design
Jixelz hold together strong - No ironing needed!
High-quality materials - Exceptional crafting experience