---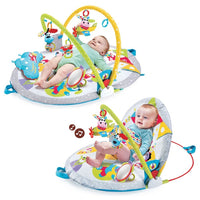 0M +
Once your baby is ready, this 3-in-1 extra padded lay to sit-up play mat transforms into a supportive, upright seat enabling your baby to sit, play, and interact with the world. Cheery, portable, and animal-themed, it will be your baby's happy throne!
This Gym Will Entertain Your Baby While Laying or Sitting, As It Can Be Transformed Into an Upright Seat for Supported Sitting and Playing.
Easily Unfold the Playmat, Lock the Arches Into Place, and Attach the Lovable Accessories In the Right Position and Appropriate Length for Your Baby.
Introduce the Many Whimsical Accessories – A Battery-Operated, Motion-Activated Musical Plane, a Double-Sided Tummy-Time Pillow, a Large, Baby-Safe Mirror that Can Be Suspended or Propped Up, a Teething Rattle, and a Rattle with Sliding Beads.
Lay and Play - During Stage One, Place Your Baby On Their Back and Watch with Awe as They Explore and Discover the World Around Them.
Tummy Time - Encourage Repeated Head Lifting During Stage Two, By Introducing the Special Tummy Time Pillow and Positioning the Mirror and Accessories On the Mat.
Sit Up - When Your Baby is Ready to Sit Up at Stage Three, Easily Transform the Playmat Into a Safe and Harnessed Seat. Slip the Pillow Into the Special Pocket Under Your Baby's Feet to Ensure Enhanced Comfort. The Sitting Position Pillow and Angle Allow Them to Sit In an Optimal Posture.
Choose One of Two Seat Safety Positions—A Snug Fit for Younger Babies 5 Months Plus, and A Slightly Larger Fit for Babies 8 Months Plus. Insert the Buckle Strap Through the Appropriate Loop for Optimal Security, and Promote 'Sit and Play' Time by Positioning the Accessories On the Arch In Front of Them for Eye-Level Engagement.
Fold Easily for Convenient Storage or Travel.
Good to Know