---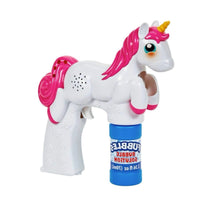 3+ Years
Blows Streams of Bubbles!
Lights Up!
Plays Music!
Easy to Use
Insert 3 "AA" (1.5v) Batteries into the compartment as shown. 
Screw the solution bottle as shown in step 2 below, the clear tube must go in the bottle. 
Pull the trigger down for 15 seconds. Pull trigger down 5-6 times to make endless bubbles and have fun. 
After each play, run water through the tubes as shown in step 4 below. Do not immerse in water. 
Installing the Batteries
Battery Installation should be done by an adult. 
Loosen screw of battery door with a Phillips head screwdriver. 
Remove battery door and place 3 "aa" (1.5v) fresh batteries as indicated in the battery compartment. 
Replace battery door cover and tighten screw. Do not over tighten. 
See important battery warnings. 
Important Battery Warnings
Use only fresh "AA" batteries. 
Do NOT mix old and new batteries. 
Do NOT mix alkaline, standard (carbon zinc), or rechargeable (nickel-cadmium batteries.)
Non rechargeable batteries are not to be recharged. 
Rechargeable batteries are to be removed from the unit before being charged. 
Rechargeable batteries are only to be charged under adult supervision.
Only batteries of the same or equivalent type as recommended are to be used. 
Batteries are to be inserted with the correct polarity. 
Exhausted batteries are to be removed from the unit. 
The supply terminals are not to be short-circuited 
Check that all contact surfaces are clean and bright before installing batteries. 
Do not immerse toy in water. 
DO NOT DISPOSE OF BATTERIES IN FIRE. BATTERIES MAY EXPLODE OR LEAK.