---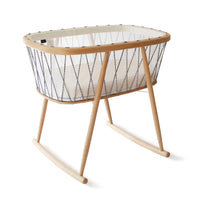 CALL STORE FOR AVAILABILITY
After the warmth of the maternal womb, the cradle is the place where the baby will spend most of his time during the first months of his life – the place where he will gradually awaken to the world. Charlie Crane has therefore designed the KUMI as both a reassuring cocoon and a space open to the outside world.
The design of the KUMI merges tradition and modernity. It retains the age-old lateral swing, a delicate movement that helps babies fall asleep, while sketching minimalist and contemporary lines, thanks in particular to the laces that surround it, giving it both lightness and security.
Dimensions
Dimensions of Cradle 81 x 56 x H72 cm
Dimensions of Mattress 68 x 40 x H5 cm
Height of Cot Base 44 cm
Composition
Wooden Structure Beech Plywood Hoop from Turkey or Romania, 2 Coats Matt Water-Based Varnish. Skids and Uprights in Solid Beech Wood from Turkey, 2 Coats Matt Water-Based Varnish.
Metal Structure Wire and Metal Plate Steel White Epoxy Paint
Mesh Cocoon 100% Polyester Nest – 100% Cotton Bottom
Laces Round Braided Laces 100% Polyester. Thickness 5mm.
Mattress Filling 100% Natural Coconut Fiber
Mattress Cover Organic Cotton Quilted with 300 gsm Natural Wool
Care
Clean the Cradle Structure Only with Soap or Other Mild Detergent Free of Toxic Components and Warm Water. Wipe Off Excess Liquid with a Dry Cloth.
Cocoon
Detachable and Machine Washable at 30°
Maximum Spin 800 rpm
Do Not Tumble Dry
No Ironing
Mattress
Do Not Remove the Mattress Cover or Machine Wash
Surface Clean Only Gently Clean Using a Damp Sponge and Mild Detergent, Allowing to Air Dry Before Use
Content of the Box
1 Beech Plywood Hoop
2 Feet and 4 Legs in Solid Beech
1 Metal Structure
1 Cocoon with 4 PVC Rods
1 Organic Coco Mattress
1 Bag of Screws and Bolts
2 Laces Length 9,50 m
1 User Manual (FR/EN/DE/DE/NL/IT/ES/PT)