---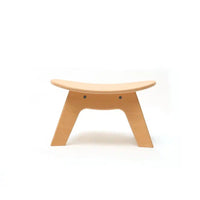 Crush alert! Our brand new little HIRO chair and its stool are the latest additions to the Charlie Crane family.
The HIRO STOOL is a multifunctional piece of furniture that will help your child learn to be independent. They can use it as a footrest, sit on it for quiet time or even climb on it to reach the toilet, washbasin or other raised areas of the house. Lightweight, the HIRO STOOL will let your child do everything like a grown-up!
Made from wood scraps from our LEVO baby rocker, these two new products avoid wasting raw materials.
A must-have!
Dimensions 25 x 38 x 20 cm
Weight 1.58 kg
Materials
Beech plywood
Maintenance
Clean the wooden structure with a clean, dry and soft cloth. Never use liquids, solvents, thinners, alcohol, abrasives, etc.
Packaging Content
1 HIRO STOOL stool (base and seat)
1 bag of screws
1 user manual