---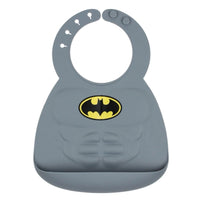 POW! BAM! Our Batman Silicone Bib will save you from the mess! We've sculpted the bib to look like the Batman suit, complete with muscle definition and emblazoned logo. The large pocket acts as a crumb catcher / catch-all for catching drips, drops and spills. Silicone has a natural resistance to bacteria, making it safe and hygienic. It can be safely boiled to sterilize. Resistant to most odors and stains. Certain strong-smelling foods may permeate silicone, but this can be easily remedied using a mixture of water and white vinegar. Safe to use – made from 100% food-safe silicone and does not contain petroleum-based plastics or toxic chemicals. Waterproof, easy to rinse, hand wash and dishwasher-safe (top rack).
BPA-free, PVC-free, cadmium-free, phthalate-free and lead-free
CPSIA compliant
Measures approximately 8" across and 7" from neck down
Adjustable to fit necks sized 8" to 10"
Sized to fit 6 to 24 months
Great shop and bib :)
Couldn't find this bib in California and reached Dimplesbaby in NY. Ladies on the phone were very nice. Loving the bib, so cute and stylish and size fits very well for a newbie solid eater ~6 month old cutie pie. It arrrived very fast and was sent in a very cute envelope. Only thing I didn't like was the shipping fee.