---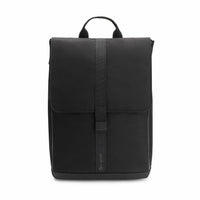 The Bugaboo changing backpack is revolutionizing how diaper bags should look. It lets you carry all your baby essentials while staying in fashion. Rain proof outside, spill proof inside, with 100% recycled fabrics & fits perfectly on your Bugaboo stroller.
Top Features
New Stylish Design made from 100% Certified Recycled Fabrics
Water Repellent Outside, Wipe-Clean Inside
Multiple Pockets, Including a 17" Laptop Compartment, to Organize Personal Belongings and Baby Essentials
Detachable, Padded and Wipe-Clean Changing Mat for Diaper Changes on Any Surface
19 L Capacity to Carry All You Need and More
Sustainability
Made from 100% Recycled PET (Equivalent to 45 Repurposed PET Bottles)
PFAS-Free Water Repellent Coating 
Sustainably Built to Last for Generations to Come
Shipped from Factory to Warehouse with Biofuels (Through Partner GoodShipping)
Compatible with
Bugaboo Bee (2007 model)
Bugaboo Bee (2010 model)
Bugaboo Bee 3
Bugaboo Bee 5
Bugaboo Bee 6
Bugaboo Cameleon 3
Bugaboo Cameleon 3 plus
Bugaboo Donkey
Bugaboo Lynx
Bugaboo Donkey 2
Bugaboo Donkey 3
Bugaboo Donkey 5
Bugaboo Fox
Bugaboo Fox 3
Bugaboo Fox 2
Bugaboo Butterfly
Bugaboo Fox 5
Bugaboo Fox Cub
All the Features You'll Love


Conscious Fashion
The Bugaboo changing backpack is made from zero chemicals and 100% recycled fabrics (using 45 PET bottles), ensuring a greener future for your baby. You can count on it to travel with your family for years to come.


Organized On the Go
Chock full of nifty features, the Bugaboo changing backpack comes with a compartment for your laptop, clutches for your baby essentials, a changing mat for your pit stops, and an insulated holder for your baby's bottle or yours.


For the Modern Parent
Fashioned for men and women alike, the backpack's timeless and modern design can be matched to any adventure. And once the time for diaper changes is over, transform it into a stylish bag for daily multipurpose use.
What's in the Box
Complete Changing Backpack
The complete changing backpack, ready to carry anything you need for your next adventure.
Changing Mat
Wipe-clean and padded changing mat for comfortable diaper changes on the go.
Two Clutches
One large insulated clutch and one medium mesh clutch to keep all your essentials organized.
Universal Stroller Adapters
Universal adapters for easy connection to Bugaboo strollers without integrated attachment points.
Changing Backpack Dimensions 11.8 x 5.5 x 17.71 in
Changing Mat Dimensions 25.59 x 13.78 in
Product Weight 2.95 lbs
Backpack Capacity 4.17 gals
Materials
Outside Fabric, Lining Fabric, Straps, Bindings, Elastics, Zippers and Mesh
100% certified recycled polyester. PVC & PFC free
Care instruction
Washing and Cleaning
Clean with damp cloth only. Always check the washing label for exact cleaning and maintenance instructions.