---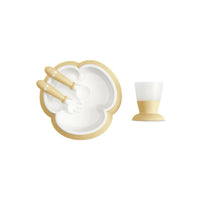 Stylish and clever design that makes "I can do it" easier and less messy.


How Can the Design Help My Baby Self-Feed?
Our kitchen products have cleverly designed details that suit very young children. The plate's trefoil shape makes scooping up food easier, while the strip underneath prevents the plate from sliding around. The spoon and fork are shaped to not slide down into the plate, and the short handles are easy to grip. The cup is stable and easy to hold, and its contents can be seen through the frosted plastic.
When Can My Child Start Using the Baby Feeding Set?
From the age of approximately 4 months or when your child shows signs of wanting to self-feed.
Are the Products Dishwasher Safe?
Yes, all the products in the baby feeding set are easy to clean and dishwasher safe.
Are the Products Safe for My Child to Use?
Yes, all our kitchen products comply with the relevant safety requirements for plastic in both Europe and the USA. This means that the plastic we use undergoes continual rigorous testing for Bisphenol A (BPA) and other harmful substances and is certified food safe.
Weight and Dimensions
Cup Weight/Volume 2.5 oz (70 g)/approx. 3.4 fl oz (100 ml)
Plate Dimensions 8 x 8 x 1.5 in/19.5 x 19.5 x 3.5 cm
Spoon/Fork Weight/Dimensions 0.7 oz (20 g)/ 1.5 x 4.5 x 1 in (3.5 x 12 x 2 cm)
Materials
Cup, Spoon, Fork and the Rim of the Plate are made of polypropylene (PP) and thermoplastic elastomers (TPE). The inner plate is made of acrylonitrile butadiene styrene (ABS). 
Care Instructions
All parts of the baby feeding set are dishwasher-safe. For ease of cleaning, the two-part plate has a removable inner plate.
What's Included
A sturdy plate in a trefoil design that makes scooping up food easier
An easy-to-grip spoon
A fork designed specifically for small hands
A stable cup that's hard to tip over