---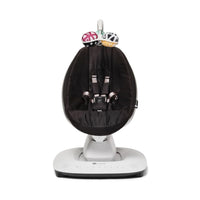 Every baby is different. And every parent and caregiver has unique soothing movesto keep their little ones happy. The MamaRoo® Multi-Motion Baby Swing is the only baby swing that features multiple motions inspired by the way realparents and caregivers bounce and sway.
The MamaRoo will become part of your family's support system to keep baby happy, even when they can't be in your arms. Mix and match five unique motions, five speeds, and four sounds to tailor each ride to meet your baby's changing needs and preferences as they grow. Smart-home features, such as Bluetooth and voice control compatibility, with Amazon Alexa (Google Home coming soon), allow the MamaRoo to seamlessly integrate into homes and offer a truly adaptable, hands-free, soothing solution.
It Moves Like You Do
The only multi-motion baby swing™ that replicates the natural motions of parents.
Wi-Fi Smart Home Integration
Use voice control to adjust features with Amazon Alexa (Google Home coming soon)
Bluetooth Functionality
Adjust motion, speed or sound with the 4moms app, and stream baby's favorite music too!
Built-In Sounds
Choose from 4 built-in sounds or stream baby's favorite tunes via Bluetooth.
Adjustable Recline
Adjust to baby's favorite position, up to a full recline
Interactive, Removable Toys
Perfect for keeping baby entertained and supporting their sensory development
Machine Washable Fabric
Easily unsnap, unzip, and toss in the washing machine on laundry day
Tailor to Your Baby's Needs  
5 Parent-inspired motions  
5 speeds   
Adjustable recline   
Four built-in sounds (Entertaining Melody, Soothing Melody, Nature, Brown Noise)   
Convertible harness from 5-point to 3-point, as needed  
Toy mobile with interactive, reversible toy balls that include a rattle, mirror and crinkle ball
Smart Connectivity
Wi-Fi smart home integration - voice control with Amazon Alexa (Google Home coming soon)
Bluetooth functionality - stream baby's favorite music and easily adjust motion, speed, or sound with the 4moms app
Power
AC adaptor. No batteries required
Age & Weight Limit
The MamaRoo® Multi-Motion Baby Swing™ is intended for use until your little one reaches a maximum of 25lbs (11.3 kg) or attempts to climb out (approximately 9 months), whichever comes first.
Always use the restraint system. Adjust to fit snugly. The restraint can be configured with the 3-point harness or 5-point harness.
If using the 3-point harness, must transition to use of the5-point harness when baby can sit up unassisted.
Dimensions
26.25" x 23.5" x 35.5"
Weight
15 lbs
Fabric Care
All fabrics are easy to remove and machine washable