---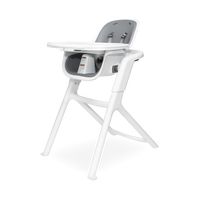 Mealtime is the perfect place to connect as a new family. The 4moms® Connect High Chair™ allows newborns to stay safely elevated and engaged during family mealtime moments. The high chair's seat easily reclines to safely support newborns. The adjustable features seamlessly adapt with your little one as they grow, so they'll always have a seat at the table. 
The 4moms® Connect High Chair™ is also built to give parents an extra hand – literally. Featuring a one-handed tray attach, the high chair uses magnets to smoothly guide the tray into place, creating a secure attachment that keeps baby safe and comfortable. Easy to clean with a removable, foam seat insert and dishwasher-safe tray liner, this will be the only high chair you and your little one will ever need.
One-Handed Magnetic Tray Attachment
One-handed tray connects securely and effortlessly
Adjustable Recline
Recline supports your newborn so they stay connected during mealtime
Convert to Toddler Chair
Removable crotch post gives your growing toddler more room
Adjustable Height
Three height positions
Easy to Clean
Mealtime messes are easy to clean with a removable insert and dishwasher safe tray liner
Adjustable Features that Grow with Your Little One
NEWBORN
Adjustable recline and the 3-point harness support your newborn so they can stay engaged during mealtime moments, up to 25lbs or 6 months.
BABY
When your little one can sit up unassisted, it's time to sit upright using the 5-point harness, up to 40 lbs or 36 months.
TODDLER
When your child has reached the age of 36 months and is able to sit unrestrained safely on their own in the 4moms® Connect High Chair™, remove the crotch post, harness, and tray up to 60lbs or 60 months old.
Feature Details
One-Handed Magnetic Tray Attachment
Adjustable Recline to Keep Newborns Connected During Mealtime Activities
Removable Crotch Post for Use as a Toddler Chair
3 Height Positions
3 Tray Positions
5-Point Harness, Convertible to 3-Point When Necessary
Easy to Clean, Removable Foam Insert
Removable, Top Rack Dishwasher Safe Tray Liner
Dimensions
High Chair Fully Extended Measures 37" Height From the Highest Point on the Back of the Seat, to the Floor
Middle Position Measures 35.25"
Lowest Position Measures 33.25"
Three Corresponding Tray Heights 30.75", 29.25" and 27"
Weight 18 lbs
Age & Weight Limit
STAGE ONE
Discontinue stage one use when child can sit up unassisted or when either of the following are met:
Maximum Weight 25 lbs / 11.3 kg
Maximum Age 6 months
STAGE TWO
Only begin using stage two when child is capable of sitting up unassisted. Discontinue stage two use when either of the following are met:
Maximum Weight 40 lbs / 18 kg
Maximum Age 36 months
STAGE THREE
Only begin using stage three when child has reached the age of 36 months and is able to sit unrestrained safely on their own in the 4moms connect high chair. Discontinue stage three use when either of the following are met:
Maximum Weight 60 lbs / 27 kg
Maximum Age 60 months
Fabric Care
Removable, Foam Insert is Easy to Wipe Clean