---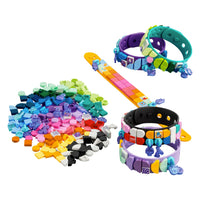 6+ Years
⚠️WARNING! CHOKING HAZARD.
Small parts. Not for children under 3 years.
Looking for a creative group activity for kids aged 6 and up who are into art and design? Treat them to this LEGO® DOTS Bracelet Designer Mega Pack (41807) kit. The tray includes 5 adjustable bracelets in different colors, lots of colored tiles, 12 special opalescent charms and 20 random exclusive graphic tiles featuring different icons, sayings, characters and patterns. The kit focuses on 5 different passions: animals, street style, nature, cosmic wonders and summer fun. The package includes inspiration to help encourage kids' creativity and the bracelets are ready to decorate right out of the tray.
Unlimited creative play
DOTS kits introduce kids to the joy of LEGO play as they experiment with the sets. Anything goes with these bracelets because the magic and control lie in a child's imagination. DOTS design kits are creative tools that make great unexpected treats or a birthday gift for kids wanting to express themselves in fun and novel ways.
Create, wear, share – Treat a creative kid or group of design fans aged 6+ with this LEGO® DOTS Bracelet Designer Mega Pack (41807) craft kit. Play starts right out of the tray
Design and redesign – Kids can explore and expand their skills as they create, with 5 adjustable bracelets in different colors and 350+ tiles, including 20 exclusive decorations and 12 charm elements
Experiment with fun – This set works on its own for quick, creative activities. Kids can also use the LEGO® DOTS Extra DOTS 41803 bag (sold separately) to expand their designs
Gift for ages 6+ – Any art and design fan will love this highly customizable kit. The sturdy bracelets and wide range of tiles can be given as an unexpected gift or extra treat any time
Small and totally portable – The bracelets each measure over 7.5 in. (20 cm) long, so there's lots of space for kids to be creative, decorate and redecorate whenever and however they wish
What inspires young designers? – Easy-to-follow inspiration on the packaging makes creativity a snap and means decorating and design experimentation starts right away
Personality on display – This LEGO® DOTS kit represents open creativity. The ready-to-decorate bracelets offer bite-sized chances to build children's confidence and imagination through fun
Unlimited play and self-expression – LEGO® DOTS sets offer kids the joy of LEGO play through creating and customizing their own jewelry, wearables or room decor items
Uncompromising quality – Ever since 1958, LEGO® components have met stringent industry standards to ensure they connect consistently
Safety first – LEGO® components are dropped, heated, crushed, twisted and analyzed to make sure they meet rigorous global safety standards
Wear Your Passion On a Wrist
Limitless design fun awaits in this LEGO® DOTS set.
Inspiration On the Package
Coming up with new designs boosts kids' creative skills.
What Color Will You Choose?
5 bracelets in different colors: pick what fits your day!
Pets on Display
My Pets Bracelet set (sold separately) expresses a passion.
Fantastic, Magical Unicorns
Unicorns Forever Bracelet kit (sold separately) adds magic.
More Designs with Extra DOTS
Glitter and Shine tiles (sold separately) add design flair.