---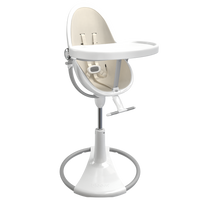 CALL STORE FOR AVAILABILITY
Fresco is suitable from newborn to 36kg/79lb 
BPA-free, phthalate-free, lead-free
3 recline positions; fully lie-flat newborn cradle, semi recline & upright seat - easily activated using the handle in the rear of the seat 
360-degree rotation 
Pneumatic up/down height adjustment allowing for tray heights up to 91cm/36in
Up-to-the breakfast bar & traditional tray high chair positions 
Super-sized, scratch resistant & anti-slip adjustable feeding tray & second smaller play tray
Trays made from FDA foodgrade plastic & stainless steel parts that are dishwasher safe
5 point safety harness with padded shoulder straps & bloom smart buckle

  

Removable safety harness allows conversion to a play seat for kids up to 8 years
Removable click-in/click-out aluminum safety bar designed for use in all 3 recline positions 
Removable sculpted booster seat for use with smaller infants - designed to direct spills away from seat unit
Removable aluminum footrest with 3 adjustable height positions 
Scratch free wheels concealed in front of base for lift and glide movement (when unoccupied)
Wipe-clean seat pads available in a range of elegant colors
Net weight: 14.3kg/31.5lb 
Manufactured to conform with globally recognized safety standards and norms 
* Recline feature is not available with tray attached. 
 Fresco Frame Includes  Fresco Frame + Booster Seat + Feeding Tray + Play Tray + Safety Bar + Footrest
Fresco Seat Pad Set Includes Large Pad + Small Pad + Matching 5-Point Safety Harness + Smart Buckle
So many issues and health hazard
Bloom boasts that this chair will grow with your child from newborn to 8 years old. It might be designed to grow, but it isn't designed to last that long.
I bought a Bloom for my first little one, used it for about a year then used with my second so two years total of active us. The buttons on the food tray have started to stick so you can't take the tray on and off; it's completely stuck. I tried cleaning the trigger and when that didn't solve the issue, I reached out to Bloom under the warranty and included pictures and video of the issue. Their website promises a response in 2-5 business days. Three weeks went by and multiple follow ups and I received no response at all. I finally reached out via Live Chat where I was informed their warranty only covers the frame and expired after two years from purchase. I was also informed by the rep, Caitlin, that I had paid less than $600 for the chair because I bought it during the Black Friday sale (not sure why that was relevant). Ultimately, they finally settled on having me pay $8 to order a trigger repair kit that I'm going to have to install myself by taking apart the trigger (we'll see what happens there). Had they just led with that, I probably would have been satisfied, but given that they made me jump through hoops to get it and made me feel silly for buying it during a sale, I was left with a really bad taste in my mouth about the interaction.
Aside from that, here's my review on a chair that I've used for two years.
It's insanely heavy which makes it completely impractical to move. There is a single wheel built in under one corner of the base, but it's really small and when you tip the chair to use it, the edge of chair base scrapes the floor, so we usually opt for hefting it despite its considerable weight. It's 32 pounds but feels like a lot more because it's bulky to move.
When you convert it for feeding, it has lots of cracks and crevices that food gets into so it gets nasty really quick and you basically need to take the entire thing apart after every meal (which is really annoying). There's a velcro strip on the base of the seat that collects food and it's impossible to get clean so I eventually had to remove it because it was just nasty (it's used with the newborn cradle position, so if I wanted to use it that way again, I wouldn't be able to). There is a five point harness but the buttons are really difficult to dislodge in order to remove them for cleaning.
The seat pad can't be submerged in water, so imagine trying to clean it when it's really dirty from a small baby getting gooey food everywhere. The material has started to separate crack from being scrubbed so it's not particularly durable.
The food tray also has lots of crevices that water gets into when you wash it and it doesn't dry out. I started to notice yucky build up underneath so I got a screwdriver and took everything apart and found black mold growing beneath the covered plastic on the underside of the food tray. It's a huge health hazard and if you don't know to take the screws out and completely take it apart to clean, you probably have a huge build up on yours too.
We bought this high chair because it does look really nice and I'm big on the aesthetics in my house (I didn't want a garish eyesore of a high chair sitting in my kitchen for years), but this high chair is completely impractical and definitely not high enough quality for $600. Combine that with poor customer service, you would be better off investing in something else with a good aesthetic like a Stokke or an OVO.
Lastly, if you're wondering how their reviews on their website are so high, it's because they block any unfavorable reviews from showing publicly (like this one).