---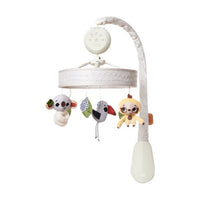 The only décor mobile in the market that offers such a wide variety of electronic features and controls. Including adorable plush dolls to fall in love and vintage-looking embroidery, this mobile will engage baby when awake and transform bedtime into a truly magical experience. Enjoy a wide variety of electronic features: rotation, 17 melodies, a unique shushing sound that works like magic (!), white noise, volume control, timer and night-time LED light.
Beautiful Embroidery and Soft Mobile Arm Cover
30 Minutes of Continuous Music
Unique Shushing Sound
Age Tips
0-3 M
Lay your baby in the crib under the mobile and let him enjoy the peaceful, relaxing atmosphere created by the soft melodies and slow rotation. See how your baby responds to the different audio options to see which one suits him best.
3-6+ M
Include the Boho Chic Mobile in your bedtime routine and let the engaging combination of movement and music help prepare your little one for sleep. Try out the shushing mode to help your baby fall asleep independently.