---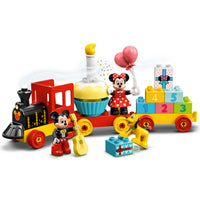 2+ Years
Celebrate a toddler's birthday in style with the delightful LEGO® DUPLO® ǀ Disney Mickey & Minnie Birthday Train (10941). Packed with developmental activities and featuring favorite Disney characters, this premium building playset is the perfect way to introduce preschoolers to numbers, creative construction and Disney magic!
Playful learning for young minds
Toddlers join Disney's Mickey Mouse, Minnie Mouse and Pluto as they drive the birthday train, stopping off to play and learn with the onboard activities. This colorful construction set improves fine motor skills as kids assemble the train and stack the number bricks; inspires creativity as they decorate the wagons; and develops social skills as they role-play with the lovable Disney characters.
Build skills with well-known Disney characters
All LEGO DUPLO │ Disney construction sets are expertly designed with imaginative features and iconic characters so parents and toddlers can share endless play and precious developmentalmilestones.
LEGO® DUPLO® ǀ Disney Mickey & Minnie Birthday Train (10941) is a premium building playset for preschoolers, packed with developmental activities, imaginative play possibilities and Disney magic!
Includes iconic Disney characters Mickey Mouse, Minnie Mouse and Pluto, a 3-section buildable train, buildable birthday cake with candle, 5 stackable number bricks and accessories.
Kids develop fine motor skills as they build and play with the train; recognize numbers as they stack the bricks; and build social and emotional awareness as they role-play with Disney characters.
For ages 2 and up. This stand-out gift will make any toddler's birthday a celebration to remember.
Train measures over 6 in. (15.5 cm) high, 14 in. (35.5 cm) long and 5.5 in. (13.5 cm) wide. This versatile, toddler-friendly construction toy can be played with in a wide variety of entertaining ways.
Expertly designed with elements that are easy for little hands to pick up and place, and fun accessories that encourage role play: a guitar, flexible balloons, gifts and Minnie's fabric dress.
Simple printed instructions make it easy for parents to share an enjoyable building experience with their little one.
All LEGO® DUPLO® │ Disney building playsets are expertly designed with imaginative features and familiar characters, so parents and toddlers can enjoy endless play and share developmental milestones.
LEGO® DUPLO® components meet strict industry standards to ensure they are easy for little fingers to pick up, place and pull apart – and it's been that way since 1969.
LEGO® DUPLO® bricks and pieces are dropped, heated, crushed, twisted and analyzed to make sure they fulfill stringent child safety standards.
Role-Play with Disney Figures
Kids build emotional skills with Mickey, Minnie and Pluto.
Improve Fine Motor Skills
Build and play with the 3-part train and 5 number bricks.
Creative Construction
Serve up a buildable cake with candle and accessories.